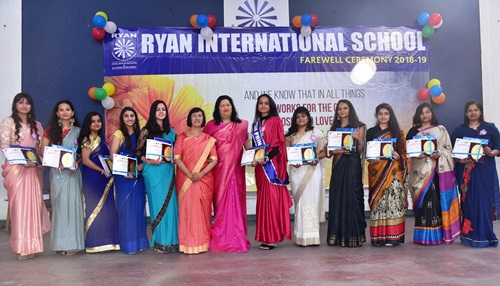 The Farewell Ceremony for the outgoing students of STD XII was held on 6th February in the school amphitheatre, Greater Noida.
The outgoing students of XII, expressed their heartfelt gratitude for a wonderful platform given by the School for their overall development and thanked their mentors profusely. The Managing Director of Ryan Group of Institutions Madam Grace Pinto emphasized upon upholding the values imparted to them in the school and shine as global citizens by making a mark in which ever field they choose. Madam motivated them to work hard, be dedicated to their purpose and be counted as an exemplary citizen of their country.
The gratitude extended by the Ryanites, mesmerized the heart and displayed overwhelming happiness & delight of all. The solemn candle lighting ceremony then followed wherein the light of responsibilities was passed down to the next in command. Further, the students were awarded for their following achievements:
The RYAN PRINCE AWARD was given to Rutul Garge and RYAN PRINCESS AWARD was given to . Surbhi Bhati for their overall outstanding performances in all fields. Furthermore the following awards were given to the students for their outstanding performance in various fields:
EXCELLENCE IN ACADEMICS – Ayushmaan Singh, Loverneet Nagar STARPER FORMER FOR SPORTS – Deepansh Pinky Mirdha ORATORY SKILLS AWARD – Vinayak Joshi, Ms. Sneha ALL ROUND BEST STUDENT AWARD Deepak Gupta, Sanjana Maheshwari NIMBLE FEET AWARD FOR DANCE – Mst. Arjun Sharma , Ms.Ananta Jha-NIGHTINGALE AWARD FOR SINGING – Aryamaan, Ms. Vaishnavi ParitoshAVID READER AWARD – Adwait Anand, Priyanjana-MATHS WIZKID AWAR Divyansh Tripathi, . Neilotpal Singh TECHNO SAVVY AWARD – Mst. Jayapratap Manikanthan, Ms. Srishti Ahlawat-MAXIMUM PARTICIPATION IN NATIONAL AND INTERNATIONAL EVENTS – Mst. Siddhant Raj , Mst. Dhruv Upadhyay, Mst. Aiyaan Warsi– INSTRUMENTAL VIRTUOSO- Mst. Yash Verma, Ms. Dilprit kaur
The cake cutting ceremony after the awards to the meritorious students added charm and sweetness to the occasion. The solemn ceremony came to a close with a heavy heart and words of gratitude by young Ryanites for their mentors.