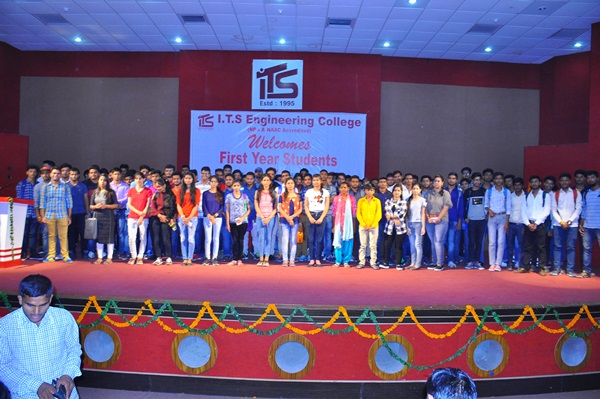 Today, Applied Sciences and Humanities Department of I.T.S Engineering College, Greater Noida has organized its XIII Orientation Programme for B.Tech and MBA first year students with great vim and vigor.
On day 1 of the Orientation Programme, students along with their parents/guardians were welcomed with "Tilak Ceremony". The occasion was graced by the honourable dignitaries- Prof. Vikas Singh- Executive Director, Dr. Gagan Deep Arora- Dean Academic Administration; Dr. Sanjay Yadav- Dean Student Welfare, Head of the Departments -Dr. O. P. Chaudhary, Dr. Ashish Gupta, Prof. Dinesh Chandra and Dr. Monika Jain.
Prof.(Dr.) Vikas Singh in his welcome address, oriented the students by quoting the philosopher, psychologist & educational reformer John Dewey: "Education is not preparation for life. Education is life itself". Further, he added, "It is the education of our students' heads, hearts and hands that will genuinely prepare them for success in college, career and civic life. An all round development is a pre requisite to surviving in today's challenging world". Then the program was followed by registration and documentation process with a guided campus visit
In the post lunch session, there was an Open House session of parents and students with Hon'ble Executive Director – Dr Vikas Singh.
At the end of ceremonial start, honorable Vice Chairman, Shri Sohil Chadha has extended his heartiest welcome to all New Comers and conveyed his best wishes for their Academic Endeavor
Thus the programme was successfully ended on a very promising and optimistically stimulating note!