Additional Chief Executive Officer, GNIDA Shri Bal Krishna Tripathi, IAS on Thursday inaugurated a 149.5 KWp roof-top solar power plant at IILM Engineering College at Greater Noida. Complimenting the infrastructural facilities of the college in the region, he said power cuts had become a thing of the past, solar roof-top power would provide clean energy. This will not only enable reducing pollution, but also entail savings in terms of electricity cost to the college. At the same time such steps will ensure that the ecological balance of Greater Noida is maintained for years to come.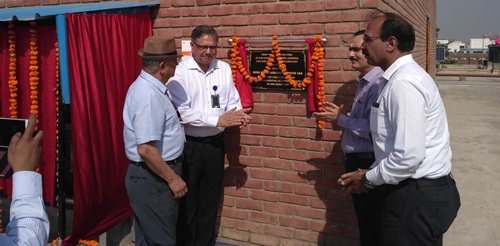 Senior Director Professor AP Singh said that this is a 149.5 KWp capacity rooftop solar power plant, which is installed by Agni Solar, Pune on terraces of two blocks – to have easy connectivity to the transformer and for centralized cabling throughout the college. The electricity generated is based on net metering consumption, where this energy will be sourced through NPCL. With this particular project, even other institutions have approached us and shown keen interest in implementing a similar kind of project. Dependency on conventional coal based power will be reduced by almost 50 percent
Director General Maj Gen B D Wadhwa, Sr Director Prof AP Singh, Director Dr Taruna Gautam, Director Dr Meenu Singh, Col Ravi K, Capt Anita Ganjoo, Anil Gupta, Faculty members & students were present.