parichowk.comFebruary 15, 20170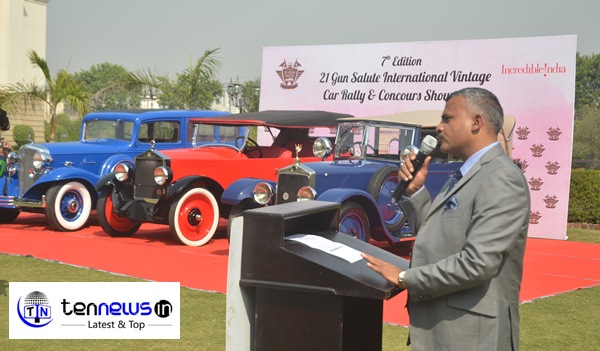 Saurabh Shrivastava Tennews

Noida gears up for 21 Gun Salute Vintage Car Rally & Concours show to be held this weekend
Greater Noida: 15th February 2017 : A royal rendezvous with hand-picked Vintage and Classic cars and motorcycles is all set to take us down the memory lane as the 7th  edition of the 21 Gun Salute Vintage Car Rally and Concours Show is back. This magnificent vintage car rally of country poised to be on Global Vintage Rallies map is geared to create a weekend of nostalgia and excitement. The 7th edition of the show will showcase National & International rare & premium Vintage Cars.
Addressing a Press Conference Mr. Madan Mohan, Founder & Managing Trustee, 21 Gun Salute Heritage & Cultural Trust said "On 19th of February, the legendary 1912 Rolls Royce Silver Ghost, 1967 Phantom 5, 1922 Moon, 1927 Lanchester and 1933 Cadillac V12 7 Passenger Limousine along with other finest handpicked vintage Cars will race on the Buddha International Formula 1 racing track, Greater Noida."
"The vision of the event is to bring India forward, as a world-class global motoring tourism destination. We have on board several Indian & International vintage & classic car owners along with esteemed royal families, who will be bringing their prized possessions, to participate in this milestone event. Great food, amazing music and lots and lots of vintage & classic cars/bikes will make this event – a truly magnificent affair to remember"
Confirming participation from USA, France, Germany, Italy & U.K. Mr. Madan Mohan said, "The 7th edition of 21 Gun Salute International Vintage Car Rally & Concours show is probably the only event, where cars will be coming across boundaries of the Indian subcontinent." We welcome you to experience majestic status, power, identity and incomparable beauty amidst many vintage & classic cars, through this mega event".
On 19th February morning , the rally will be flagged off from historic- INDIA GATE- August Kranti Park, moving Straight towards RASTRAPATI BHAWAN, then on to PURANA QILA ROAD & then Continue Straight following the Mahatma Gandhi Marg – Budha Temple – DND Toll, then moving towards Greater Noida, the rally will continue straight towards Ambedkar Park – Following Greater Noida Express Way towards Sports City ( B.I.C ), the rally will culminate at the Subway (Gate no- 1) for Buddha International Circuit, Greater Noida.
All 100 vintage cars will participate in a 2-lap ceremonial drive after which exciting races on the Formula-1 track will be held in the Pre war, Post war, Edwardian and Classic Vintage car categories. Apart from the race, several cultural dance forms will also be displayed on the racing track showcasing the diversity of India.
"Every year, as a tribute to the golden era of the automotive industry, we organize this International Vintage Car Rally & Concours Show & this year, on the 17th and 18th of February, 2017 – the display of Vintage/Classic Cars & Concours Show at the India Gate, will be inaugurated in the presence of stalwarts of the corporate world, Vintage Car aficionado across the globe and erstwhile Maharajas. We have received great support from International Tourism Boards & the Ministry of Tourism and Hon'ble Minister of State, Culture and Tourism (Independent Charge) and Civil Aviation." Says Mr. Mohan
The spectacular vintage & classic cars will be accompanied by around 20 bikes from all over the world and the exclusive Maharaja Cars, gripping musical & dance performances along with presence of royalty and great Indian food – certainly takes this occasion to the hilt.
Besides, showcasing the rich automotive heritage to the world, the rally has takes up a social cause every year. Previous editions have supported for example the welfare of spastic and blind children, 'Save the Girl Child' etc. Keeping with this tradition, the 7th edition will support the welfare of spastic children.
Conceptualized by Mr. Madan Mohan – one of the country's biggest vintage car collector, the 7th edition of the 21 Gun Salute Vintage Car Rally & Concours Show, apart from being a fun festive and a revolutionary event, is all geared to make its way for India to become a world-class destination on the global motor tourism map!