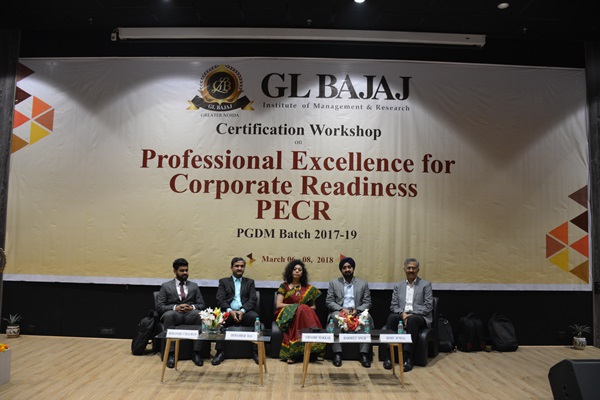 GLBIMR launched its 30-Hours Certification Program on "Professional Excellence for Corporate Readiness", from March 06-March 08, for PGDM Batch 2017-19, at its Greater Noida campus, with the focus to create Corporate Ready Professionals.
Dr. Urvashi Makkar, Director General, GLBIMR shared that the certification workshop, which is scheduled till March 08, 2018, is focused on honing the communication skills of the students, to enable them to explore best-in-the-class employment prospects. This workshop will strengthen the foundation of GLBIMR's strong impetus on developing the students to match industry expectations.
The resource team of the workshop included reputed trainers Mr. Harmeet Singh, Mr. Romy Juneja, Mr. Debashish Das and Mr. Himanshu Chauhan from"Unleash Potentia", a leading organisation imparting contemporary, curated, non-vocational professional skills for industry ready employability.
The workshop provided experiential learning and enhancement of professional interactive skills of the budding managers of GLBIMR through extensive mock Group Discussions (GD) and Personal Interview (PI) sessions. The discussion topics ranged from current affairs, general awareness to abstract themes which enthralled the students to apply their analytical, theoretical as well as creative thinking.
The workshop facilitated the students to exercise their verbal & non verbal communication skills, body language, behavior interpretation, image management and understand the changing trends in corporate expectations. Important tips on managing a positive self image, self grooming and corporate etiquettes were shared with the students.
During the inaugural session on March 06, 2018, Dr. Makkar emphasized that the workshop will enable the students in their career ahead to be efficient, confident & match Industry expectations. The workshop, being highly interactive and engaging, proved to be a game-changer for GLBIMR-ians