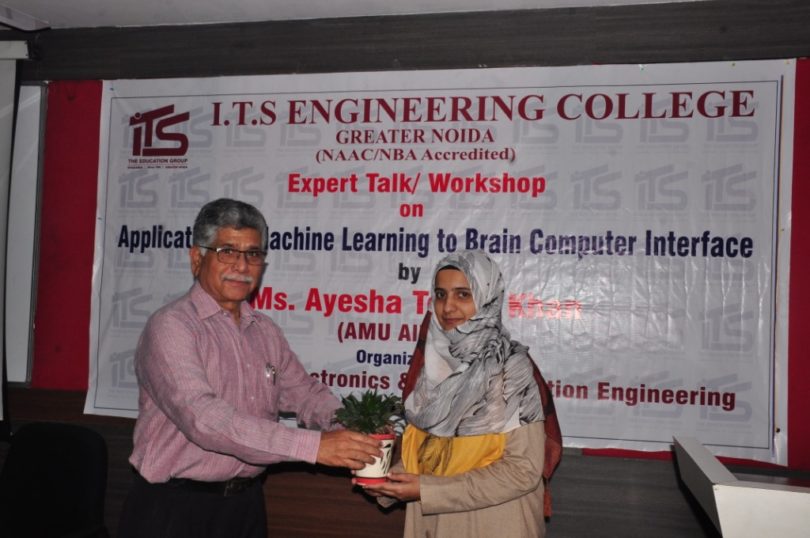 Greater Noida : The Expert talk/Workshop on Application of Machine learning to Brain-Computer Interface was held by MS. AYESHA TOOBA KHAN who is an Assistant Professor in Aligarh Muslim University.
It was graced by Executive Director: I.T.S Education Group- Dr. Vikas Singh; Dean-AA, Dr. Gagandeep Arora; Dean-SW, Dr. Sanjay Yadav; HOD-ECE, Dr. Dinesh Chandra and HODs of all the departments; faculties; and students.
Dr. Dinesh Chandra ( HOD ECE) motivated the students for using the outcomes of this hands on workshop in their future life. He inspired students to not only know about their branch but also other branches. He added; "learning about every branch is what makes you a true engineer."He further inspired the students to take up projects that includes machine learning.
The Expert talk/Workshop has been divided into two parts; lecture and hands on workshop. The Expert talk/Workshop started by some biology part including functions of brain, evolution of brain, recording the brain signals, EEG rhythms which proceeded to the introduction of BRAIN COMPUTER INTERFACE which expanded to MACHINE LEARNING.
After that, students moved to the laboratory to use MATLAB software for analysis of real time problem. All the students of ECE enthusiastically participated in the workshop/expert talk.  Students felt overwhelmed  after attending the hands on workshop.  By this Expert talk/Workshop , students learned much about various applications of Machine learning in real time.