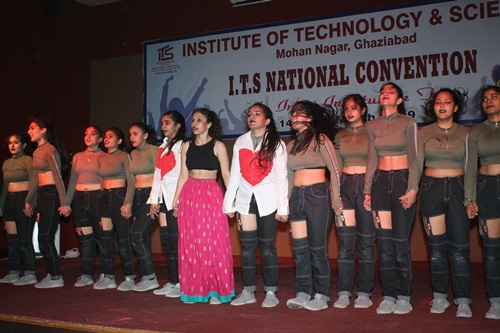 The 2ND Day "I.T.S National Convention -2019" began with  various fine arts and cultural contests in Group Dance, Nukkad Natak, Fashon Show Paintings, Treasure Hunt, War of Bands, Rangoli and T shirt Paintings  to discover, nurture and encourage young talents for their all round development and future success.
More than 900 participants participated to showcase their talents and creativity from 150 institutions across NCR Delhi and Ghaziabad district on 14th and 15th April,2019. The winners of this event were awarded cash prizes, certificates and trophies for their outstanding performance.
 Neha Chibbar ( Amity University) secured 1st prize and Varuni Singh (I.T.S Mohan Nagar-UG campus) secured 2nd prize in T- Shirt Painting, TM University team won 1st prize and I.T.S Mohan Nagar-UG campus won 2nd prize in Treasure Hunt, Janaki Devi Memorial college team confirmed 1st and Ramanuj College Team confirmed 2nd position in Group Dance, Guru Govind Singh College of Commerce team reserved 1st and Dayal singh college team reserved 2nd position in Nukkad Natak and Vaibhav Mishra of I.T.S Mohan Nagar was declared 1st and Pallavi Tyagi of Galgotia University was declared 2nd in Solo singing contest.       
 I.T.S Mohan Nagar has a rich tradition to organize such events based on contemporary social, business, academic, industrial and other developmental issues in addition to its regular academic, professional and research based activities with its prime objectives of creating a sense of awareness amongst the people and ensuring sincere efforts of the institution for socio economic  development and as a catalyst for nation building.