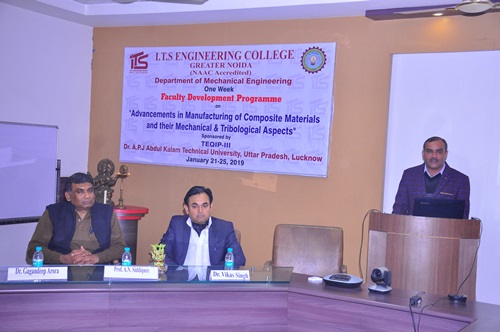 One week Faculty Development Programme (FDP) sponsored by TEQIP – III (Dr. A.P.J Abdul Kalam Technical University, Uttar Pradesh, Lucknow) was inaugurated in the I.T.S Engineering College, Greater Noida on 21 January 2019. The topic of FDP is "Advancements in Manufacturing of Composite Materials and their Mechanical & Tribological Aspects".
This program will be organized during January 21-25, 2019. The college has the legacy of creating facilities and environment to prepare faculty & students for new challenges. The inaugural of this program has further strengthened this endeavour. The basic objectives of the programme are to enhance the quality of classroom delivery of academic programs being run by the University and to foster a better environment for Research and Innovation in the Academic Institutions.
The ceremony was marked by the presence of Executive Director of the Institute, Dr. Vikas Singh, Dean Students Welfare and Mechanical Engineering Department Head, Dr. Sanjay Yadav, Programme coordinators, Dr. Akant Kumar Singh and Harsh Gupta, distinguished speakers Prof. Arshad Noor Siddiquee and Prof. S. M. Muzakkir from Jamia Millia Islamia New Delhi. Head of Departments from various engineering disciplines of the host institute, faculty members of the parent institute and faculty participants from other reputed engineering colleges also graced the inaugural session.
The session began with the traditional lamp lighting followed by the welcome speech by Dr. Sanjay Yadav. He informed the gathering about the various initiatives taken by the college to enhance the quality of engineering education and relevance of FDP in the present context. He expressed thanks to the University on behalf of the college for providing this opportunity to organize FDP. Institute Executive Director, Dr. Vikas Singh addressed the gathering emphasizing the need to have such academic events in the college. He elaborated that such events not only encourage the faculty members to maintain their intellectual curiosity but also helps them in adapting to the changing roles in initiating and setting the directions for curricular changes.