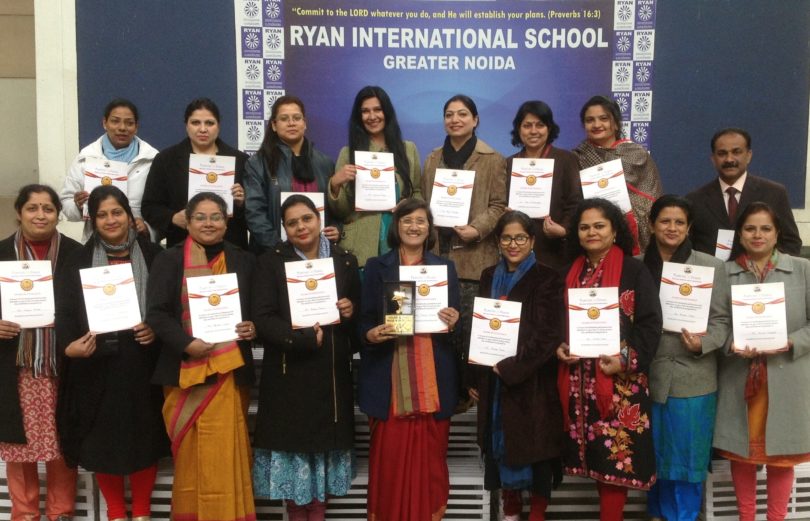 It was a proud moment for Ryan Greater Noida, when the school Principal Mrs. Sudha Singh received an "Excellence Award" by Hon'ble Home Minister Shri. Rajnath Singhji at glittering ceremony "Festival of Peace". This ceremony was held at Vigyan Bhawan, New Delhi on 15.01.2019 at 6:30 p.m. Other Guests who were present in the ceremony were Shri Ramdas Athawaleji, Hon'ble Minister Social Justice & Empowerment, Shri Richard Hay, M.P. Kerala and Dr. Anita Banjamin, Global Peace Ambassador.
Shri. Rajnath Singhji , appreciated the effort of Women in teaching for their constant guidance to the students of the country. This ceremony also recognised seventeen (17) teachers of Ryan Greater Noida for their tireless effort in the field of Education by giving them certificate of Excellence. These teachers are Ms. Nidhi Trivedi, Mrs. Bindu Koshy, Mrs. Smrita John, Mrs. Neetu Singh, Mrs. G.Hemamalini, Mrs. Monali Ghosh, Mrs. Seema Kant, Mrs. Rajni Arora, Mrs. Renuka Daniel, Mrs. Meeta Negi, Mrs. Peau Chakraborty, Mrs. Annie Titus, Mrs. Manju Joshi, Mrs. Riju Madan, Mrs. Neetu Sharma, Mrs. Neelima Rana, Mr. Thomas.
School Principal thanked Ryan management Dr. A.F.Pinto and Managing Director Madam Grace Pinto for their constant guidance and good vision. The school Principal congratulated all staff, students and their parents for constant support.