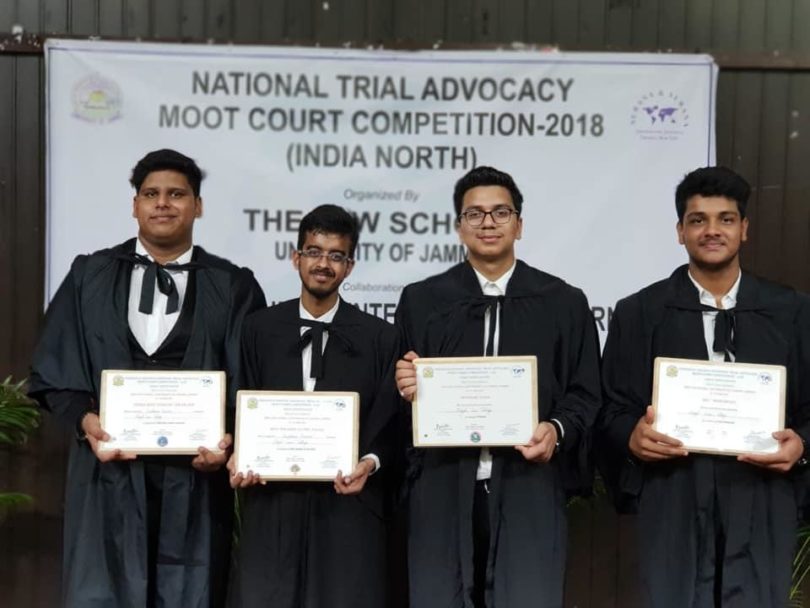 We are delighted to announce the recent achievement of Lloyd Law College and celebrate the glory brought by our students. It again out shined in the mooting league by lifting the two prestigious award in two competitions this week.
First, students of Lloyd Law College won Surana and Surana National Trial Advocacy Moot Court competition 2018. This was held at School of Law,University of Jammu. The team comprising of four students i.e Shubham Anand, Divyansh Rai, Ayush Dutt Tripathi and Abhinav Bhardwaj. Astonishingly all these students were from 2nd year of B.A LL.B course, who competed with much seniors students having more experience than them. These students gave about six months of relentless efforts for this moot and the result proved that hard work always pays off.
The second achievement bagged by all girls team on the very same day was in 'V.S. Mani International Moot 2018- JNU Jaipur for 'BEST MEMORIAL" in the competition. The all girls team comprising of Astha Singh, Simranjeet Kaur and Maharani V Bhamini. After working for three months, they added a new feather to the cap of Lloyd's glory. They too were second year students who defeated other participants who were much senior to them.
Lloyd law college believes in holistic development of students and promoting, enhancing their skills and doing anything possible for their social and academic betterment.