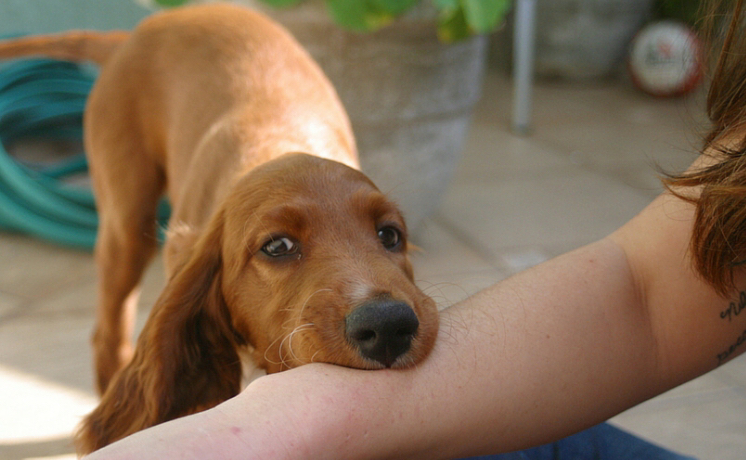 25 people in EGM victim of dog bites in 1 month
By Sumita Dixit
There have been more than 25 dog bite cases in Eldeco Green Meadows (EGM), a gated society complex in Greater Noida. Staff, guards, maids, children, adults and senior citizens have all been victims of stray dog bites. Four guards, six maids, one gardner, one presswala, one flower-delivery man, three mothers, four men, and more than five children have been bitten in just one month alone.
The RWA of EGM has been knocking all doors for help for a long time but no one has come to our help so far. When SPCA Noida was active, it promptly sent its van and a trained and empathic team for help. SPCA would sterilise and vaccinate the dogs and bring them back. This was assurance enough that the dogs won't spread disease in the event of a bite. The problem started when SPCA became inactive. Greater Noida Authority does not have a trained team to catch dogs, nor a centre for sterilsation and vaccination nor a hospital to treat or keep dogs. As a result the stray dog population has suddenly increased in Greater Noida. In spite of several calls to the health department of Greater Noida Authority no timely help has arrived. The residents are left on their own to defend themselves or protect themselves from stay dog bites.
On August 19, (two weeks ago), a dog bit three people. Panic spread and people rushed to the guards for help. They tried to capture the dog. Kaveri Rana Bhardwaj of People for Animals (PFA) asked the guards why didn't the guards try calling 100 number or animal helpline, the guards said that dog has bitten three people. The NGO did not once bother to look at the bites of the victims, nor did they make the effort to sensitise guards or people that if such a thing happens residents can call them, instead she shouted and yelled at the poor guards and the victims. Had PFA made the effort to inform people that people can actually call Police in a dog bite case or shared helpline numbers with Greater Noida RWAs?
The guards and help/maid cannot afford the expensive anti rabies treatment. While residents have paid towards the treatment, some of them had to go to Ram Manohar Lohia hospital Delhi as vaccines are out of stock in Greater Noida hospitals.
So, the Greater Noida Authority does not come to the rescue of people, because human life is cheap nor does the Authority have the wherewithal to run an effective sterilisation programme or a shelter to keep dogs and PFA on the other hand shouts and yells at poor guards who are trying to save people from further dog bites. Why should a city have an NGO that only shouts and yells, and does not run awareness and sensitisation programmes and nor does it share its helpline number with RWAs of Greater Noida Society and Sectors so that people can call for help or for the help for dogs? NGOs must spend more time in constructive efforts in helping people understand dog behaviour and how people can defend themselves from aggressive dogs. Rather than intimidating, NGOs must help make people sensitive to dog issues.
So, where does that leave the RWAs who selflessly take on the responsibility for the well-being and safety of its residents? The RWA does not get help from Authority and PFA says write an application to Greater Noida Authority and it will help. The ping-pong game is a clear example of system failure. If in the meantime there's a death because of a dog bite, who will be responsible: PFA, CEO Greater Noida Authority, DM or Police or a body with no rights, the RWA? My question to everyone is, what is the solution? If you have a solution please give us one.
Application about Dog Menace in Eldeco Green Meadows has been sent to CEO, Greater Noida Authority, DM, SSP and Human Rights Commission.
Sumita Vaid Dixit, President, RWA, Eldeco Green Meadows
Eldeco Green Meadows is spread on an area of 20 acres. This complex has 951 apartments and more than 2000 residents. There are mostly young families with small children.