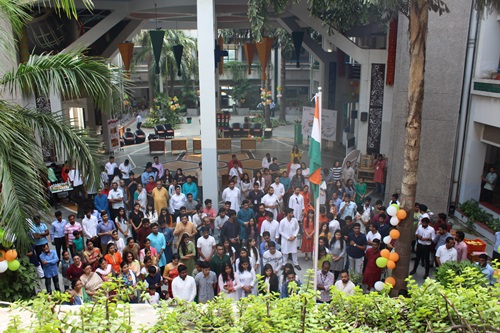 India's freedom struggle was long and hard-fought, and Independence Day is a reminder of the sacrifices made by the freedom fighters who fought bravely for nationhood and independence.
"Long years ago, we made a tryst with destiny and now the time comes when we shall redeem our pledge… At the stroke of the midnight hour, when the world sleeps, India will awake to life and freedom." – Jawaharlal Nehru on August 14, 1947.
With this patriotism and high spirit, Birla Institute of Management Technology, Greater Noida celebrated 72nd Independence Day. The whole campus was decorated with Indian flags and posters of the martyrs. The celebration, organised by Cultural Conduit, began in the college premises with the unfurling of the National flag at 9 am, by Director H. Chaturvedi followed by the National Anthem and his words full of patriotic zeal and fervour. His speech covered the points like unemployment and hunger leading to suicide and how technology, a powerful tool in current times is instead used to spread fake news about lynching.
The college choir enhanced the spirit of patriotism by singing Ae Watan (song form Raazi) and Vande Mataram (A.R. Rahman).
Majlis club of the college set up a "Debating Board" highlighting a topic "A free press shelters democracy" on which various views were shared by Director H. Chaturvedi, esteemed faculty and students.
Valmor-The Discipline Conduit of the college organised an event called "Sarfarosh" for the students to build up their team spirit. The first competition was "Rope and Roll", in which participants competed in a race with their legs tied up with rope and they had to carry the bouncing ball with the help of cardboard and drop it in the box at the finishing line. The second competition was "Prison Break", in which teams had to steal the flag from other teams' territory and return without getting caught. The winners of the competition were Gaurika Aeron and Kartik Lakhotia of Retail Management batch 2018-20.
The event was successful in making the students acknowledge the sacrifice done by the freedom fighters and creating the environment of pride and joy.