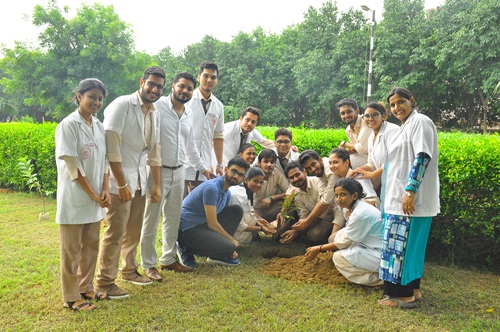 The "Green Campus Day' was observed on 10th August 2018 at I.T.S Dental College, Hospital and Research Centre, Greater Noida Campus as part of the The National Mission for a Green India, as one of the eight Missions under the National Action Plan on Climate Change (NAPCC).
The Chief Guest for the occasion was Mr Sohil Chadha, Vice Chairman I.T.S – The Education Group. Also present on the occasion were Mr B.K Arora, Secretary , I.T.S – The Education Group. Dr Akshay Bhargava, Director- Principal, Dr Sachit Anand Arora, Dean UG, all Head of the departments, Facultymembers and students. Mr Sohil Chadha, Vice Chairman I.T.S – The Education Group in his message told that "If each and every one of us does at least one green good deed daily towards our Green Social Responsibility, there will be billions of green good deeds daily on the planet."
Mr B.K Arora Secretary, I.T.S- The Education group participated inn the event with full enthusiasm and planted saplings with faculty. He stressed upon the importance of planting Trees and said that trees contribute to their environment by providing oxygen, improving air quality, climate amelioration, conserving water, preserving soil, and supporting wildlife. He also told that trees help record the history of our family as they grow and develop alongside us and our kids. We often make an emotional connection with trees we plant or become personally attached to the ones that we see every day. During this drive more than 100 saplings were planted in the park adjoining PG Hostel to further enhance the greenery in the campus by the students and faculty members.
The students took pledge for Green Campus Clean Campus revolution Dr Akshay Bhargava said that everyone around the world should take ownership of their environment and to actively engage in the protection of our earth. He also told that Every year the world uses around 500 billion plastic bags, at least 8 million tonnes of plastic end up in the oceans, the equivalent of a full garbage truck every minute and in the last decade, we produced more plastic than in the whole last century therefore he pledged students for saying no to plastics, Dump waste in Garbage cans only and to save electricity.
He said that I.T.S- The Education Group is committed to preservation of the environment and has adopted several Green Initiatives in all its wings including operations, administration, maintenance, infrastructure and community living, for maintenance and upkeep of all office spaces, residential and community areas. Dr. SachitAnand Arora, Dean UG He inspired the students by raising a very relevant question 'Do Human Beings exploit or protect the nature?'. He explained the answer with lots of examples that a common man is facing in his day to day life. The things that are harmful to the nature is the product of us only. He concluded with a valuable message that it is better not to exploit the nature rather than seeking methods to protect it. Mr Sohil Chadha applauded the students & faculty and said that it is time to recognize the importance of planting trees and take it as a responsibility to contribute whatev