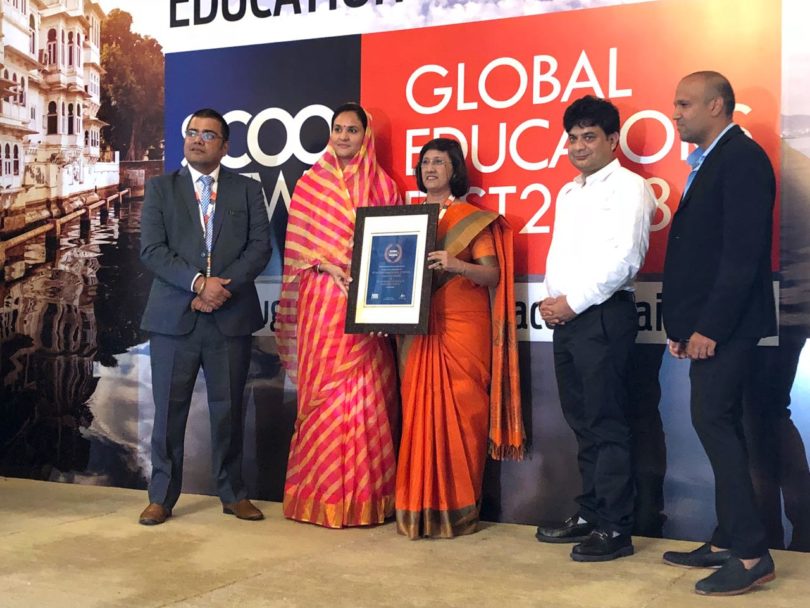 It was indeed a proud moment for Ryan International School, Greater Noida for being recipient of the STEM PROJECT OF THE YEAR (Editor's Choice Category) organized by the SCOO NEWS GLOBAL EDUCATORS FEST 2018 held at Udaipur.
The school project " Learning 21st Century Skills through Stem for sustainable development" where the initiative of the school in applying the concepts and innovations in the field of science and technology to better the society were applauded.
The project was scheduled in a manner wherein each month a STEM theme is taken as a part of curricula to enhance 21st Century Learning Skills. The theme Energy, Space, Construction, Earth Science, Life Science, Machines, Digital Design Communication and Development has given insight to the students to prepare models like POWER TOWER (based on optical engineering and solar panels).  "GEAR GO ROUND" (Based on designing an Electronic Sensor and Mechanical engineering), "MY SMART CITY" (Based on programming and designing with a  3D Printer), MY GARBAGE PICKER ROBOT (Based on high tech robotics) DESIGNING A DRONE (aerospace modeling), DESIGNING A ROCKET (using space technology) etc.
The Stem Project has thus developed a cross curricular approach among students, encouraging creative problem solving and team work.  The teacher's equally got a change to involve themselves in learning new technical skills and engaging students to understand, collaborate, think, communicate and create a model for the benefit of the National at large.
The school principal congratulated the staff and the students of the school and encouraged them for more innovative ideas.