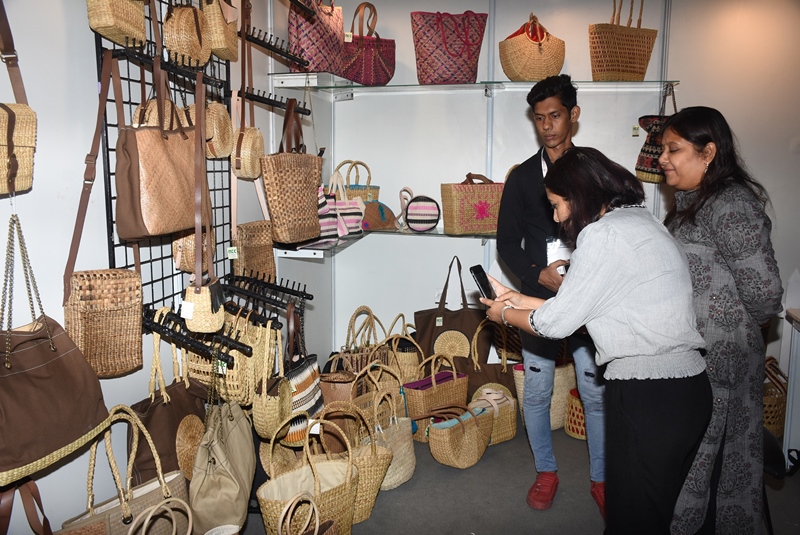 Rakesh Kumar, ED – EPCH informed that during 11th edition of Indian Fashion jewellery & Accessories show [IFJAS] EPCH has set up thematic show on fashion jewellery and accessories from the craft clusters located in Northern Region, Central Region, Western Region, North Eastern Region, Eastern Region and Uttarakhand state to promote, market as well as create awareness for these sectors about their unique designs, raw material and finishes. Such participation are vital in order to avail the opportunity and to increase the span of export market as well as brand building of regional craft clusters where manufacturers, craftspersons get opportunity to display their products in such exhibition.
Brass Engraving Jewellery, Bangles, Ring & Ear Ring, Glass Bead Jewellery, Necklace, Bracelets, Beaded Purse, Pouch, Fashion Bags, Imitation jewellery, Wooden Jewellery, Silver jewellery are on display from central region,
Beads Jewellery, Silk stole & Dress material, Bamboo jewellery & Artistic Textiles, Bags, Tribal Jewellery, Kauna Natural Fibre Bags & Accessories, Baskets , Handmade textile, Corn Husk weaving, jewellery box from North east region .
Bangles, Ear Rings, Necklace, Stoles, wooden jewellery, caps, socks, button cufflinks, handmade artistic jewellery, silk wool traditional stoles, bracelets, lac bangles, leather bags, footwear, belts & purses, beads jewellery, clutch bags, clutch purses, fashion bags, scarves, shawls, bone jewellery from northern region. Likewise fashion jewellery and accessories are on displayed from other regions also.
The specific display of these products would not only enable the prime producers to explore export opportunity but also would give exposure to the crafts persons/entrepreneurs engaged with the fashion industry at the ground level to learn the market technicalities according to requirement of the foreign buyers.
IFJAS is a B2B show where foreign buyers, importers, Buying Agents wholesalers etc. are only allowed to visit the fair for procuring the products for their requirements from Indian market. Hence, the objective of such participation by the artisans from the craft clusters is to promote the prevailing fashion jewellery products of the these regions. This would serve twin purpose of exploring exports, creating awareness and enlarging export market of the products of these regions and generate employment in the craft clusters.