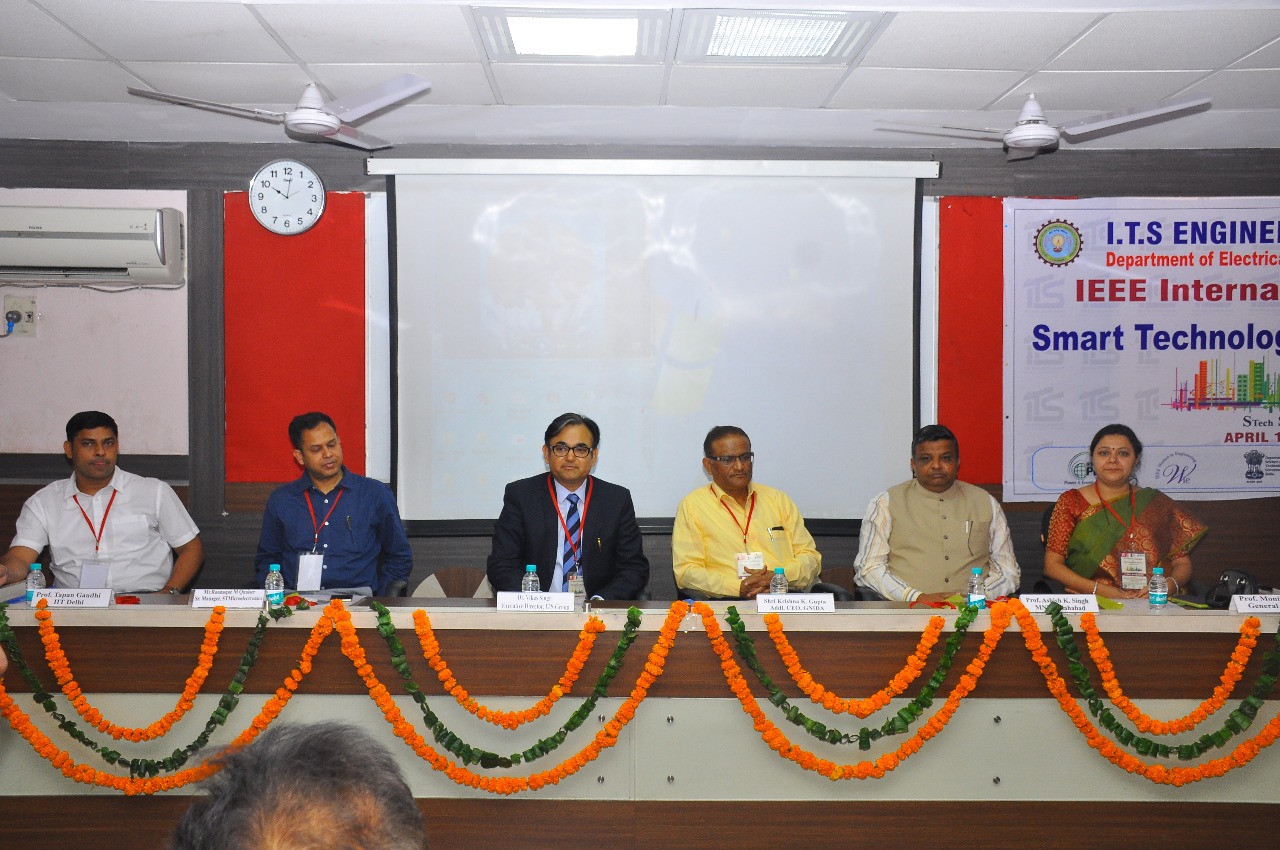 Department of Electrical & Electronics Engineering of I.T.S Engineering College, Greater Noida has hosted an DST & AKTU Sponsored IEEE International Seminar on "Smart Technologies for Smart City" .
The auspicious occasion was inaugurated with a lamp lighting ceremony by Hon'ble Chief Guest Shri Krishna Kumar Gupta, (IAS), Additional CEO, GNIDA, Distinguished Keynote Speakers-Dr. Tapan Gandhi, IIT Delhi, Dr. Dilip Sharma, Convenor-IEEE SIGHT, UP-Section, Dr. Ashish Kumar, MNIT Allahabad , Mr. Raunaque Mujeeb Quaiser – ST Microelectronics, Greater Noida, Mr. Piyush Chandra Ojha, V.P. -CABCON, India , Dr. Vikash Singh , Executive Director , I.T.S Group of Education in presence of HOD's, faculty members , students and scholars from premier institutions.
General Chair, Dr. Monika Jain, has presented the objectives and program highlights of STechSCity-2018.
Honorable Executive Director-Dr. Vikas Singh has delivered a welcome address to Chief Guest, & Eminent Speakers. He has highlighted the key concept of Smart City by highlighting the features of India's First Smart City "GIFT City" of Ahmadabad .He said this rapid development will not only transform every ones life for betterment it will also give a huge opportunity for innovations, research and ideas to face the challenges in technological transformation into reality.
In the felicitation speech, Guest of Honor, Dr. Tapan Gandhi, Professor, IITD has highlighted that Mission of Smart City will be possible with "PPP"- People, Policis & Productivity
In the Inaugural Talk, Chief Guest, Shri K.K Gupta ji has highlighted that India is remembered by all as the country of "Mother of Innovations from all aspects since ancient days. He said it is developing in all terms from Education system till Technology Development in last 70 Years of Independence. He highlighted the Government supports and initiatives in this regard mentioning the hon'ble prime ministers vision of Smart City. He Said, to develop a Smart City, "People have to build a right Attitude & Attribute" which will lead to its success automatically. Giving the alarming signal to Young Engineers, he said through you; we are seeing the dream of "Sunehre Bhavishya of Sunehre Bharat" – hence not run behind anything just to grab a good job rather we should take inspiration from Great Scientist's biography like Dr, APJ Abdul Kalam in building our personality through their sacrifices & struggles of life and should learn to be a good human being with noble aim and attitude. He also has urged that Nature has given us few gifts at no cost, without whom we cannot think to survive, In return Nature only wants, it is to be enjoyed not to be destroyed. Hence we all have to work together to protect the entire environment & its resources for future.
Sri Sohil Chaddha ,Vice Chairman- ITS Group of Education has extended his heartiest welcome to hon'ble Chief Guest & all Delegates . He said this forum will give a huge exposure to budding engineers to focus on technological development from career prospects.
Inaugural session was followed by other Keynote and Plenary sessions on Smart Techonologies vertical applications. Program ended with a Vote of Thanks presentation by Dr. Monika Jain, General Chair.